Enhancing Workplace Productivity with the Right Stationery Products in Bangalore
In today's fast-paced business world, efficiency and productivity are crucial to staying competitive. Often overlooked, having the right stationery products in your office can make a significant difference in how smoothly your daily operations run. AVM Enterprises, one of the premier office stationery suppliers in Bangalore, is here to assist you in maintaining a well-stocked inventory of essential office supplies. In this extended guide, we'll delve deeper into the top 10 stationery products every business in Bangalore should consider, emphasizing how each can contribute to a more productive workplace.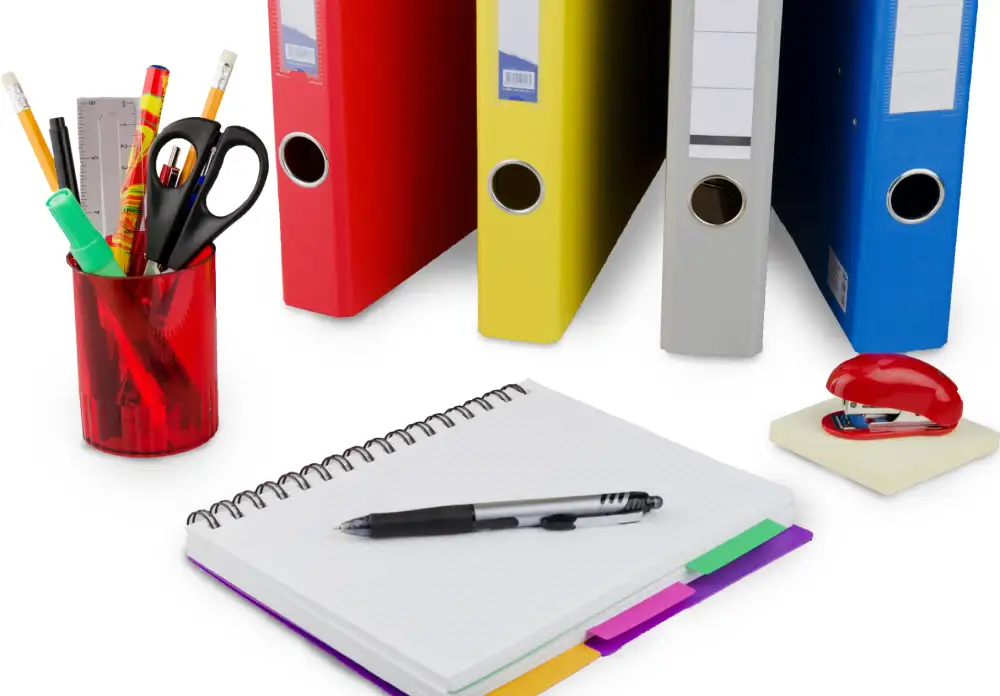 Before we dive into the specifics, it's important to understand the significance of selecting reliable office stationery suppliers in Bangalore. The right supplier can be your trusted partner in keeping your workspace organized and efficient. AVM Enterprises has established itself as a dependable provider of stationery products in Bangalore, offering a wide array of supplies tailored to meet your business requirements.
Pens and Pencils
In an increasingly digital age, the humble pen and pencil remain essential tools in any office. They're crucial for jotting down notes during meetings, signing documents, and fostering creativity through sketching and brainstorming sessions. When choosing pens, consider providing various options, including ballpoint, gel, and rollerball pens, to accommodate different writing preferences among your employees. Offering an assortment of colours can also add a touch of creativity to your workspace.
Notebooks and Notepads
Despite the prevalence of digital note-taking apps, there's something irreplaceable about the tactile experience of using notebooks and notepads. They're indispensable for capturing meeting minutes, creating to-do lists, and sparking spontaneous moments of inspiration. Opt for eco-friendly options to align with sustainable practices, demonstrating your commitment to environmental responsibility.
Sticky Notes
Sticky notes are the unsung heroes of office organization. They are perfect for leaving quick reminders, marking document pages, and jotting down ideas. Different sizes and colours can foster creativity and help keep your team organized.
Paper
Paper remains a constant necessity in the office, whether for printing important documents, crafting presentations, or note-taking. Ensure you have a variety of paper types, including letterheads and standard printing paper, to meet various business needs.
File Folders and Binders
Effective organization is a cornerstone of productivity. File folders and binders play a pivotal role in keeping important documents in order, making it easier to locate information quickly. Invest in durable options to ensure these organizational tools stand the test of time.
Staplers and Paperclips
When keeping loose papers together, staplers and paperclips are invaluable. They maintain neatness in your documents and prevent the loss of crucial papers, ultimately saving time and reducing frustration.
Tape and Adhesives
Tape and adhesives serve many purposes in the office, from sealing packages and fixing torn documents to putting up notices and posters. Opt for high-quality options to ensure they withstand daily use and adhere securely.
Desk Organizers
Desk organizers help keep pens, paper, and other supplies neatly arranged, promoting a more organized and efficient workspace. This enhances productivity and contributes to a more aesthetically pleasing environment.
Scissors and Cutting Tools
For tasks that require precision, scissors and cutting tools are indispensable. They come in handy when opening packages, trimming documents, or creating custom presentations. Ensure that you provide ergonomic options to minimize strain and discomfort during use.
Calendars and Planners
Efficiently managing appointments, deadlines, and important dates is vital for any business. Calendars and planners are essential for keeping your team organized and meeting their commitments. Consider providing both physical and digital options to accommodate various preferences.
Why Choose AVM Enterprises as Your Office Stationery Suppliers in Bangalore?
Selecting the right office stationery supplier in Bangalore is paramount to ensuring you have access to high-quality products and exceptional service. AVM Enterprises offers several compelling reasons to make us your trusted partner in office supplies:
Wide Product Selection
Our extensive range of stationery products caters to the diverse needs of your business. From basic office supplies to specialized items, we provide a one-stop solution for all your stationery needs.
Quality and Durability
Quality matters, especially when it comes to office supplies. AVM Enterprises is committed to providing you with stationery products built to last. When you choose us as your office stationery supplier in Bangalore, you can trust that your supplies will withstand the rigours of daily use.
Competitive Pricing
We understand the importance of managing your office expenses. That's why we offer competitive pricing on all our stationery products, helping you save on your office supply budget without compromising quality.
Convenient Ordering
Our user-friendly online ordering system simplifies the process of restocking your office supplies. We offer quick and efficient delivery services to ensure you always have the stationery products you need when you need them.
Exceptional Customer Service
At AVM Enterprises, we take pride in our exceptional customer service. Your happiness is our top concern since we consider long-lasting connections with our customers important.
Conclusion: Elevating Your Workplace with AVM Enterprises
In the ever-evolving business landscape, achieving optimal efficiency and productivity is non-negotiable. While many factors contribute to success, the significance of a well-organized workspace with the right stationery products cannot be overstated. AVM Enterprises, a premier office stationery supplier in Bangalore, ensures your workplace always has the essential office supplies it needs to thrive. In this comprehensive guide, we've explored the top 10 stationery products that every business in Bangalore should have. Let's take a moment to reflect on how these tools can truly transform your workplace.
Choosing AVM Enterprises as your office stationery supplier in Bangalore ensures you acquire these essential tools and gain a partner dedicated to your success. Our wide product selection, commitment to quality and durability, competitive pricing, and exceptional customer service make us the ideal choice for businesses in Bangalore seeking dependable stationery suppliers.
By partnering with us, you invest in a well-equipped, streamlined, efficient, and visually appealing office environment. A tidy, organized workspace is a testament to your commitment to professionalism and excellence, setting the stage for your team to do their best work.
In conclusion, choosing stationery products and suppliers is not merely a matter of logistics; it's a strategic decision that can impact your business's productivity and overall success. Refrain from settling for subpar office supplies or unreliable suppliers. Choose AVM Enterprises to elevate your workplace, empower your team, and enhance your business's potential for growth. Contact us today and experience the transformative power of top-quality stationery products in Bangalore. Your journey to a more efficient, productive, and successful workplace begins here.